De la ferme à la villa Blakstad – L'architecture d'Ibiza va gagner votre cœur
Among the attractions that you find when visiting the Balearic Islands is the
architecture of Ibiza
. It's particular history makes it inimitable, distinctive and a true
heritage
of the island.
With its very unique characteristics, this style of construction has created a basis for the design of many modern homes that you can currently find while looking to buy a house or villa in Ibiza.
The Unique Homes Of Ibiza
The style of the Ibizan or payesa Finca is the product of the oral preservation of ancient forms of construction that were traditional among the peasants and transmitted from father to son.
The result is a functional building, integrated into the landscape and generally located on some elevation of the land. No two are the same, although they all retain common features.
Among the most outstanding characteristics you can appreciate are the straight, pure lines. The houses resemble a harmonious collection of cubic elements, which can be added according to family or work needs.
The central body or porxoes, a rectangular room connected with independent cubic modules, used as bedrooms, storageroom or kitchen.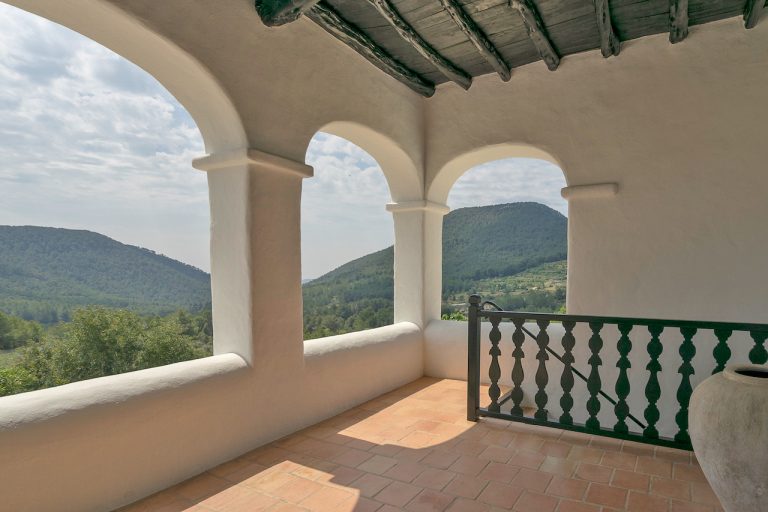 Finca Benimussa N – For sale with Prestige Properties
Among the materials used are stone, sand, clay and Sabina wood for roofing and the traditional exposed beams. This aromatic, resistant and hard wood has a reddish, veined appearance of great beauty, besides being impregnable to insects or moisture.
The walls measure up to one meter thick and are presented as bare stone walls or soberly whitewashed without decoration. The windows are rectangular and small; they once sheltered people from attacks by pirates and they now protect them from the sun.
The ceilings are flat, they serve to collect water and ripen and dry the fruits and they consist of three layers that make them waterproof: juniper wood, algae and sand, and an outer layer of clay.
Roots In The Cultures Of The Near East
As Rolph Blakstad explains in his published works, this architectural design is millennia old. Its roots can be located in the Neolithic dwellings in the Near East.
He argues that the origin of this form of housing is thanks to the Carthaginians and Phoenicians who settled on Ibiza. He found in his archaeological research in Palestine, Lebanon and Syria not only matching shapes and designs, but evidence of the use of juniper wood.
The legacy of Blakstad values ​​what is ancestral in the payesa farm and adapts it to modernity, adding space and light to the rooms. This achieves a sense of material and spiritual comfort that you can find in many designer homes in Ibiza.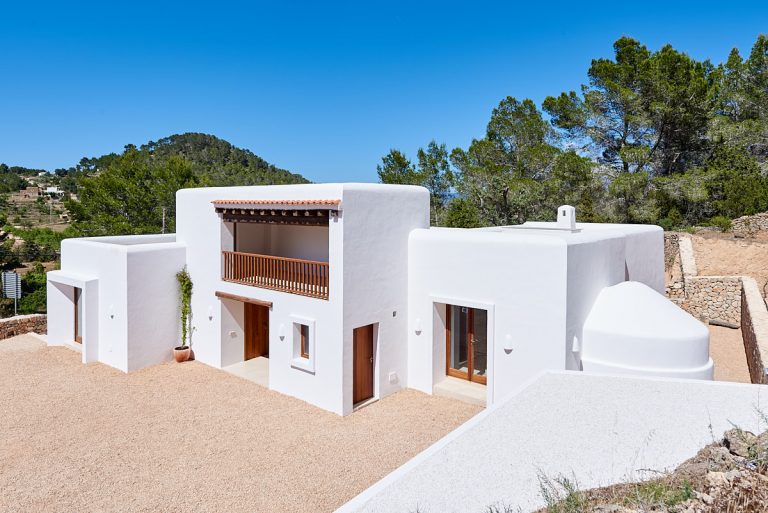 Can Sisal – For sale with Prestige Properties
Similarly, architecture on Ibiza is oriented to integration with the environment and to consideration of environmental aspects in the construction of houses. The best houses on Ibiza stay true to the ancestral architecture of Ibiza. Therefore, its inhabitants have a tangible connection with what is original, traditional and the authentically Ibizan.